Led by Head Coach Juria Maree, our dedicated team of trainers are CrossFit athletes and members of the CrossFit Enduro community.
Juria Maree
Who would have imagined that online shopping could result in a career and lifestyle change; my CrossFit journey started in 2010 when I stumbled across crossfit.com looking for training shoes. The idea of constant variance intrigued me.
Working as a key account manager in an aviation company, the only solace I found during the day was that hour that I went to the box to train. I recall sitting in stressful meetings thinking to myself: "this is nothing compared to last night's WOD!"
One of the highlights of my fitness journey thus far has been making it to the Asia Regionals, twice. I was overwhelmed with the encouragement from my community, some of whom flew to Seoul to support me. Traveling internationally as a CrossFit Level 1 Staff has brought so many rewards. I am humbled to be able to don that red shirt every weekend.
CrossFit Enduro was borne from my desire to share with others the knowledge and skills that I have picked up all over the world. Coaching doesn't stop with movements; it extends to nutrition, lifestyle and my community's outlook on life. A truly holistic package. I am passionate about training athletes to maximise their potential and to be a part of their fitness journey.
My athletic background was primarily in Track & Field and Karate. I have dabbled in Rugby, Capoeira and even Muay Thai.
Certifications/Advanced Training
CrossFit L1 Seminar Staff
Certified CrossFit Level 3
CrossFit Anatomy Course Trainer
CrossFit Endurance Trainer
CrossFit Gymnastics Trainer
CrossFit Kids Trainer
CrossFit Scaling Certificate
CrossFit Games Judge, California (2012 – 2017)
Pose Running Course (Dr. Romanov)
Advanced Weightlifting/Gymnastics Cert (Chad Vaughn/David Durante)
Weightlifting Training Session (Donny Shankle)
Movement Seminar (Carl Paoli)
Primal 2 Day Workshop (Perry Nickelston)
Precision Nutrition Level 1 Certificate in Exercise Nutrition
Precision Nutrition Level 2 Certificate in Exercise Nutrition
CrossFit Online Course: Running
CrossFit Online Course: Spot the Flaw
CPR/AED Certified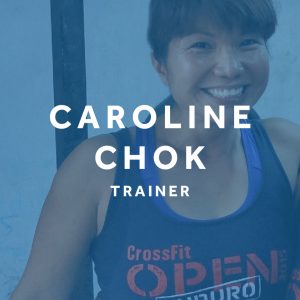 Caroline Chok
It was out of a need for improvement in physical strength that I joined CrossFit in 2011. I was previously working with an indoor skydiving facility and one of the fitness tests was to complete 10 pull ups. I could not perform even one pull up and am proud to have come a long way since then.
I come from an endurance sports background, favouring triathlons and marathons. However, I distinctively remember doing squats during my Fundamentals and after which I was unable to lift my legs to mount a pedestrian kerb. The pain was real but I was instantly hooked. The combination of cross training, working with sprints and explosive movements, improved the timings of my tri races.
I love to teach. I love to share knowledge that I've gained through my coaching experiences. As a swim and CrossFit coach, there is no greater satisfaction than seeing your athletes grow and improve. I am glad to have experienced and learned through coaching various sports and being an outdoor educator at OBS.
My favourite WODs are long endurance ones, as those are my forte. Beyond Triathlons and CrossFit, I am 3rd Dan in Kendo (1997 – 2004).
Certifications/Advanced Training
CrossFit Level 2 Trainer
CrossFit Weightlifting
CrossFit Judge (2013 – 2016)
CrossFit Regional Games Judge, Seoul (2013)
FISAF trainer (Diane Haslem)
AUSTSWIM Coach
Royal Life Saving Australia ( RLSA )
Life Saving 1,2,3
Bronze Cross
Kayak Star 4; Kayak Coach Level 2
Sailing Proficiency Level 1
Rock Climbing Instructor Level 2
CPR/AED Certified
Aaron Teo
In the summer of 2012, what was meant to be a spiritual journey in California also led to an irrevocable change in my approach towards fitness. During a sermon, a leader spoke about how his son's life was changed by a top CrossFit athlete named Rich Froning. His son had lost direction in life, but the testimony of Froning helped him find a meaningful purpose. That was the first time I had heard about CrossFit.
I have been connected to the fitness industry for more than 10 years as a Les Mills trainer but had never heard of CrossFit. Upon my return to Singapore, I tried a few of the daily WODs posted on crossfit.com and those seemingly simple WODs floored me. I was addicted.
I can foresee CrossFit being a part of my life's journey. My initial motivation for joining CrossFit was to lose weight as I had been struggling with my weight all my life. I have moved beyond that and now it is the CrossFit Enduro community, the physical and mental gains and the joy of coaching that keeps me returning for more.
I have been active in sports all my life, including but not limited to Tae Kwon Do, in which I have a black belt, and Windsurfing, which I having been doing for more than 15 years.
Certifications/Advanced Training
CrossFit Level 2 Trainer
CrossFit Weightlifting
CrossFit Gymnastics
CrossFit Online Course: Scaling Certificate
CrossFit Online Course: Spot The Flaw Certificate
CPR/AED Certified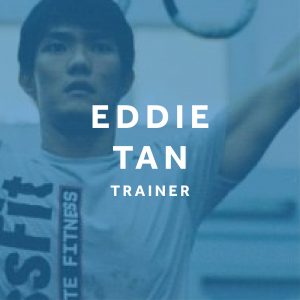 Eddie Tan
In mid-2012, I was looking for something beyond the usual gym routine of lifting weights. That was when I chanced upon CrossFit. Having trained for marathons and triathlons, I thought I had the stamina and would easily ace it. I was so wrong.
I enrolled myself for the 2-Day Fundamental class at CrossFit Enduro and it changed my entire perceptive on fitness. I can recall the agony from my first workout – Tabata. This 4-minute workout of alternating air squats and burpees left my legs jelly. Climbing stairs was my worst nightmare over the next few days.
The idea that the intensity of any workout can drastically change simply by varying intervals and/or repetitions fascinated me, more so with using functional movements such as squats. Other than programming, what makes CrossFit unique to me is the community. Every box has its own character and culture. CrossFit Enduro feels like a 2nd home to me, with a tight community where everyone is like family.
Having personally transformed my life with CrossFit, I now want to do the same for others through coaching. From dieting to working out, CrossFit encourages you to take on a holistic approach towards creating a emotionally and physically stronger you. A quote that I live by is: "It's just you against you", apt for any WOD when it is just you in competition against the clock.
Certifications/Advanced Training
CrossFit Level 2 Trainer
CrossFit Weightlifting
CrossFit Endurance
Singapore Weightlifting Federation Level 1
Kinesio Taping Level 1 & KT 2
Lifesaving Instructor
Swimming Coach
CPR/AED Certified
Wong Kim Guan
I was introduced to CrossFit by a friend who spoke positively about trying a new form of exercise. Being someone who likes to explore new things, I was naturally up for giving it a try. I took a Fundamentals class in 2012 and I recall churning so many air squats from that Tabata WOD that I had difficulty walking for the next few days. Evidently, one never forgets their first WOD.
The key reason I pushed on was because of the energy from the CrossFit Enduro community. Just a glimpse from 2 days of Fundamentals class, I could feel the insane energy when we work out together. I knew that this positivity could fuel me to push through any gruelling exercise. My objective as a Trainer is to help my athletes move better in their day-to-day activities through these functional movements that we train with.
I love WODs that are short and intense. My favourite girl is Fran: 21-15-9 (repetitions of Thrusters and Pull-Ups for time). I come from a competitive basketball background and often participate in 10km races.
Outside of CrossFit, I love to cook, travel and hike as it takes me out of cities.  Reconnecting with Mother Nature is a rarity in a bustling city like Singapore and I take every opportunity to do so when I am overseas, ideally with a glass of whisky in hand.
Certifications/Advanced Training
CrossFit Level 1
CrossFit Gymnastic Trainer
CPR/AED Certified
Sixx Ng
I started CrossFit in 2012, when I took my fundamentals with Coach Juria. I remembered ending the first session with Tabata air squats, and those squats changed my life and legs. I left the box with jellied and uncoordinated legs. It was so bad that when I tried to get on my bike, I could not even bring my leg over!
Since then, I've been living and breathing CrossFit.
I love CrossFit because it's really fun and I love the challenges every WOD brings. They reveal my weakness and makes me want to work on them. As a personal trainer in a globo-gym previously, I love the study of CrossFit as well and I'm constantly amazed with how the human body works.
To me, our community is the most important aspect to me and I think I wouldn't have carried on enjoying my workouts at the box without them. I love our emphasis on quality movement and opportunity to learn. I hope that as a coach, I am able to impart my knowledge and experience to my fellow mates in this wonderful community.
Certifications/Advanced Training
Crossfit Level 1
Singapore Sports Council Basic Exercise Course
International Kettlebell And Fitness Federation Certified Kettlebell Teacher Level One
Functional Movement Systems Level 1 And 2 Certified
Kinetic Link Training (Functional Strength And Conditioning)
Myofascial Techniques Workshop Participation
Rock Tape Certification Of Completion
Issn Sports Nutrition Specialist – Fueling Performance Certification
Advanced Certificate In Nutrition And Health
Vipr Instructor
Bosu Personal Training Certification
Trx Suspension Training Course
Training Pregnant And Post Natal Clients
CPR, First Aid/AED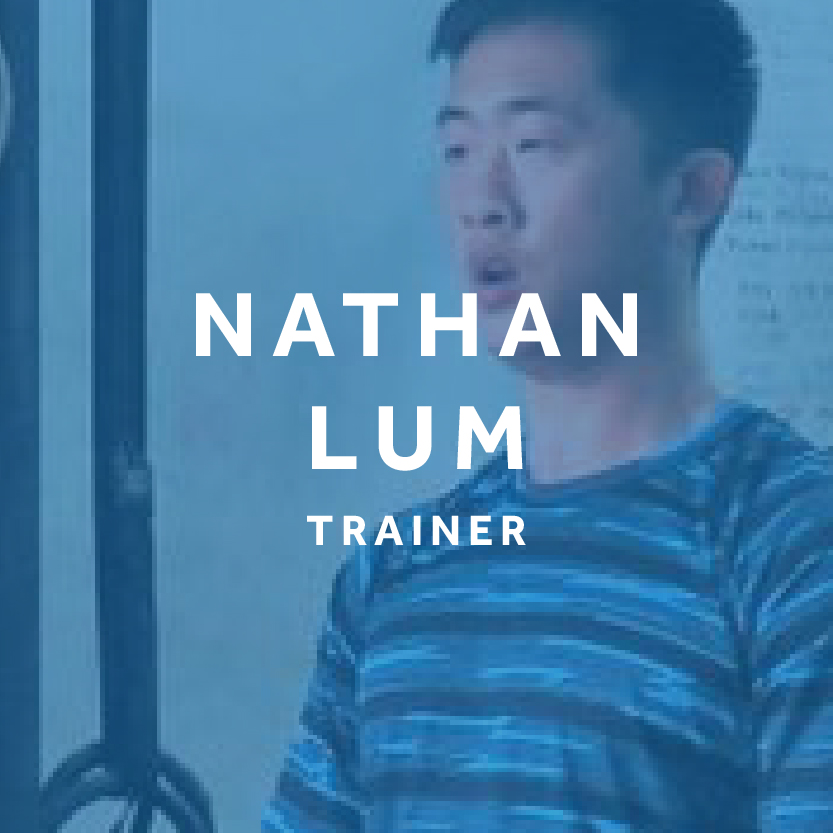 Nathan Lum
The fear of gaining weight after graduation drove me to CrossFit. After chancing upon a newspaper article, I watched an hour long online video of CrossFit Founder Greg Glassman explaining the basics of CrossFit. That piqued my curiosity. On May 2013, I dropped by a box near me and that first class left me green in the face.
I came back because I wanted to get better and stronger. For someone who has a short attention span, the large range and constant variance in movements are perfect. Making the move to CrossFit Enduro on September 2015 was tough but I have no regrets; the commitment to movement standards and form won me over.
Compared to participating in a workout, coaching requires a completely different skill set. It is a constant learning process and I am happy to have the support and guidance of the Enduro crew. Nothing beats giving back to my community which has given me so much.
I have never considered myself to be a sporty or athletic person. Besides the occasional gym sessions and mandatory 2.4km runs, I had no real background or foundation to begin with. I love how I am a direct product of CrossFit. My favourite WODs are those which are long and involve bodyweight movements.
Certifications/Advanced Training
CrossFit Level 1
CrossFit Gymnastic Trainer
CPR/AED Certified